I will have a tent set up at the Melbourne Beach Founder's Day event this coming Saturday May 5th.
I will have live tropical plants and exotic cut flowers imported from Central America for sale.
If you are looking for tropical plants, I suggest getting there early for the best selection. (see below for list of plants I will bring)
I will have my garden cart with me, and you can use it to wheel plants back to your vehicle, since they block off the road. (Just bring it back, heh)
I WILL ALSO HAVE A FRESH SHIPMENT OF EXOTIC CUT TROPICAL FLOWERS AVAILABLE ON SATURDAY.. These come directly from the jungles of Central America.
They are available as prebundled bouquets that include Red Ginger, Large Upright Heliconia, Smaller Accent Heliconia, Tropical Foliage and Cordyline and Dracaena Tips (you can plant these later and they will grow!)
Bouquets are $20 each and will last approx. a week and a half in a vase (or make your own arrangement)
- If you contact me ahead of time, I can also make an arrangement for you (slightly more, but worth it)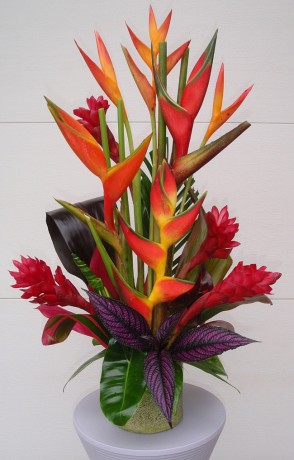 Plants I should have with me:
Heliconia Tagami
(all the plants that were blooming have sold, but this is what the bloom looks like)
Alocasia Calidora (gets HUGE)
Red Tower Ginger (costus barbatus) at blooming height
Bilbergia "Windii"
A tough bromeliad that can take sun and has a pink heliconia-like hanging bloom
Good for tying in the crooks of trees, etc.

Heliconia Latispatha "Distans"
A very reliable bloomer for our area- stays low around 3-4′ and will fill beds nicely.

ALSO:
Heliconia Stricta "Iris Banochie"
Heliconia Stricta "Firebird"
Heliconia Rostrata
Costus Barbatus (Red Tower Ginger)

Black Alocasia "Nigra"
Philodendron Speciousum
Philodendron Gloriosum
Variegated Crinum Lily (Crinum Asiaticum) (white stripes on leaves & white flowers)
Purple "Queen Emma" Crinum Lily (Dark Purple leaves with purple flowers)
Sun Bromeliads such as Aechmeas and Neoregalias as well as

Potted, Rooted and Blooming Plumeria
Have any questions, or inquiries? Contact me directly at:
or call 321-960-8928